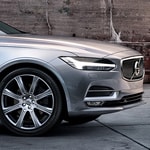 If you are looking for a stylish luxury wagon that's got all the safety features you need, look no further than the strikingly popular Volvo V90. This year, Volvo has gone out of its way to keep you safe on your daily commute. With several stunning safety options, you can get behind the wheel knowing the Volvo V90 lends itself to a safer drive.
Loaded with top notch security systems, the Volvo V90 touts the Blind Spot Information System that allows you to see vehicles in your blind spot ahead of time for safer lane changes. Moreover, the Volvo V90 also boasts of alerting you when you are coming too close to a car to avoid a collision.
With all of this in mind, the Volvo V90 certainly was fashioned for protection. With built-in safety systems that come standard with each trim, it's obvious how much the Volvo V90 values the safety of you, your family and your friends!