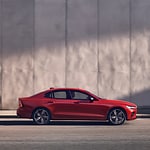 There are many great reasons why the Volvo S60 is a popular luxury compact sedan. Its looks, tech and safety features best anything in its category. Plus, it performs with the precision and responsiveness of a race car. Here are two other performance features that our Scherer Volvo Cars team really loves.
The Active Chassis
Nothing shocks your ride feel more than smooth Peoria roads suddenly turning bumpy and eventful. A comfortable ride feel is essential to longer commutes and weekend trips out of the city. Volvo S60's Four-C Active Chassis adjusts chassis shock absorption according to selectable drive mode settings like Comfort, Eco and Dynamic. The result is a ride feel that's quiet and buttery even on more rugged terrain.
Technology for Fuel-Saving Stop/Start
Volvo S60's Stop/Start Technology stops the engine when you come to a full stop. It then restarts the engine when you resume driving, saving precious fuel and driver energy that might be lost in stop-and-go scenarios.
Experience the Volvo S60 from the driver's seat today with a test drive at Scherer Volvo Cars.