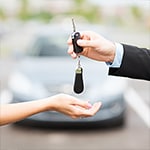 Many factors go into purchasing a used car the right way. Knowing what vehicle is the best one to purchase is a priority. You want to make sure you buy a car that fits your specific requirements. Being able to afford the monthly payments and the ownership costs becomes essential, too.
Look closely at any actual model you wish to buy. Make sure it rides well by taking a test drive. The test drive also tells you if the vehicle handles the way you like. Request a VIN report and determine the number of previous owners. General information about a make and model only goes so far. Learn about the specific vehicle you intend to bring home in Peoria.
Negotiating the purchase price becomes an integral part of the process. So is closing everything correctly. Brush up on your skills here.
What about that test drive? Book an appointment for one at Scherer Volvo Cars at your convenience.